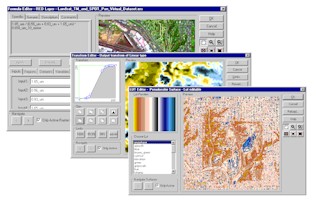 MapImagery

is a free plugin for MapInfo users that provides tools making it easier to use imagery within MapInfo Professional. MapImagery supports a wide range of raster image formats and makes it simpler to use these formats within MapInfo Professional by automatically extracting registration information, where this is available.

MapImagery has strong support for working with ECW compressed images and Image Web Server URL images. In addition, MapImagery enables ER Mapper algorithms, prepared via ER Mapper or MapImagery Professional, to be displayed, and integrated with vector information, within MapInfo Professional.

MapImagery Professional

is an upgrade to MapImagery, that provides an advanced set of raster tools, usually only available in high cost dedicated image processing products. MapImagery Professional can be used for preparing, adjusting and enhancing imagery, for use within MapInfo Professional based applications.

MapImagery Professional shares the same download and install as the MapImagery. The additional features of MapImagery Professional can be activated via the entry of a software key, which can be purchased from the MapImagery web site or from Earth Resource Mapping.
Overview
No not everyone is willing to put the time and effort required to learn all the features of a fully fledged professional image processing system. Also not everyone needs, or is willing to pay for a fully featured $10,000 professional image processing system. To solve real world problems people need to use many tools. Integration of these tools can be as important or even more important than the tools themselves.

MapImagery Limited's new product, MapImagery Professional, has been been created to address all of these needs. MapImagery Professional makes a smaller number of features really easy to use. These features are made available to people at a very attractive price.

MapImagery Professional is seamlessly integrated with MapInfo Professional, and other MapInfo based applications, solving many of the integration problems that people have.

MapImagery uses proven ER Mapper technology as a basis, so you can depend on its quality and strength. What this also provides is an upgrade path for power users, to the leading professional imaging product, ER Mapper. Compatibility with a whole range of free imaging plug-ins also makes it simple to integrate MapImagery into your organization wide GIS strategy.

With MapImagery everything like Installing, Licensing, and Getting support is very simple, so that anyone can do it.
Screen Snapshots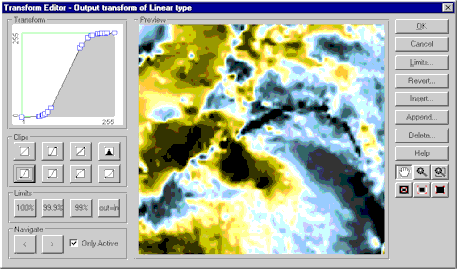 Snapshot of MapImagery Professional showing the Transform Editor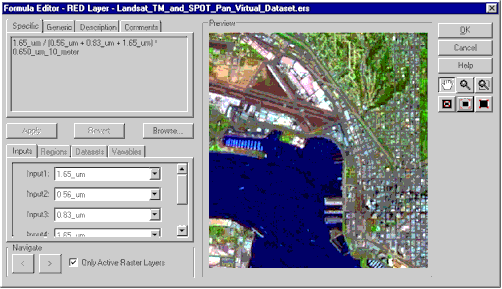 Snapshot showing the MapImagery Professional Formula Editor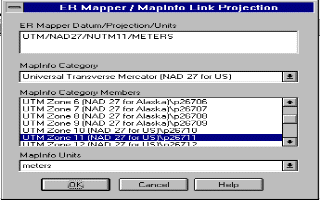 Snapshot of the MapImagery Registration Dialog
Key Benefits

Powerful imaging at your fingertips right inside MapInfo. Seamlessly integrated with MapInfo Professional and with other MapInfo based applications.

Interactive real time histogram stretching. Formula, Convolution and other standard Image processing techniques.

Works directly with all common image formats, including ER Mapper, ESRI BIL, Geotiff, Bitmap. Additional formats are being added all the time.

MapImagery and MapImagery Professional work natively with compressed image formats such as Geotiff/JPEG and ECW, making MapImagery ideal for laptop based field applications.

Based on the same underlying technology as the leading professional imaging product, ER Mapper. Fully compatible with ER Mapper, for power users, and all the free ER Mapper plug-ins, for MapInfo, Autocad MAP, ArcView, World 2.0 and Office. This makes it simple to integrate MapImagery and MapImagery Professional into your organization wide GIS strategy.

Low cost and simple software based licensing system (no more hassles with dongles) makes it painless to implement, both financially and technically. The license system is web based, which makes it very easy to operate.

Detailed context sensitive on-line help. Links to the MapImagery web site provide up to date technical and support information.
Download and Install
The MapImagery and MapImagery Professional are distributed as a single self extracting executable archive. To install MapImagery and MapImagery Professional under Windows, Windows NT or Windows 2000, perform the following steps:

Make sure you have both MapInfo Professional 5.0 or later installed on your PC.

Download the latest version of the MapImagery self extracting distribution file. MapImagery Download (6 megabytes). If you just want ECW for MapInfo, this is available as a separate download, as well as being part of MapImagery and MapImagery Professional, ECW for MapInfo Download (1 megabyte).

Run the downloaded file by typing its name at a dos prompt, or double clicking on its icon in a file manager. After unzipping the files, the installation program will run, and will guide you through the installation process.

Follow the setup program instructions. You will be asked for the location of your MapInfo software (for example, C:\MAPINFO) and for the location to install MapImagery

Read the "MapImagery Help" for more information