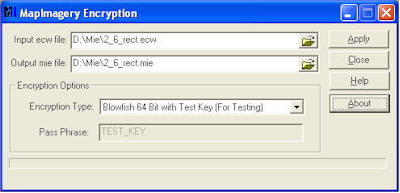 MapImagery Encryption is a set of tools for creating and using encrypted ECW imagery files. MapImagery Encryption allows imagery to be distributed publicly, for example on DVD, CDROM, intranet file system, or via the Internet. But only to be viewed by users with an appropriate key.
Optionally it is also possible to specify that the imagery can only be decrypted using a particular software product, or even by a user with a particular network address.
This help provides information on how to install, use and obtain support for MapImagery Encryption. It also contains a log describing the changes between different versions of MapImgery Encryption.
A local version of this document gets installed with each copy of MapImagery, however, the latest version can always be found at the MapImagery web page. MapImagery Encryption Help